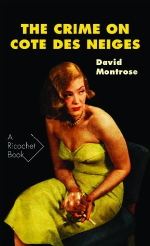 I've spent the last year or so—and especially the last six months—introducing myself to the world of crime/mystery fiction. (I don't really know what to call it; there seem to be a number of genre subtypes, and I'm not familiar enough to be able to sort them out.) I've been having a great time with the genre, a far better time than even I expected. I think I went through ten novels in March alone. I picked up this book, the first of several Canadian noir reissues, based on a post on The Dusty Bookcase, a blog run by Brian Busby, who just also happens to be the series editor.
The Crime on Cote des Neiges was first published in 1951, and is one of three detective novels set mostly in Montréal that Charles Ross Graham wrote under the nom de guerre "David Montrose." (The others are Murder Over Dorval in 1952, which is currently on my stack, and The Body on Mount Royal in 1953, which I don't think has been released yet.) Montrose's Russell Teed is almost like Canada's answer to Philip Marlowe, a few decades late. Montrose writes with the same kind of wit and hardboiled energy as Chandler, but Teed is better dressed, more polite, has a swankier office and typically deals with a slightly higher class (and less risky) clientele; a Canadian vision if ever there was one. The dialogue dates The Crime on Cotes des Neiges pretty badly, and Detective Sargeant Framboise has an accent so ridiculous it borders on being offensive, but otherwise it's pretty taut.
The plot is a little messy; there are body doubles and more bullets than holes (or is it more holes than bullets? I can't quite recall, only that they don't match up), and some clever maneuvering with family trees and girls in wet frocks, but all in all it's a worthy addition to the crime canon. It's unfortunate that it was so long out of print, but I'm very glad that Véhicule Press launched their Ricochet Books line, because I'd not only place this novel in the same tradition as Chandler, I'd put it on par with some of his lesser books (with the understanding that even lesser Chandler is better than your common noir novel).
The Crime on Cote des Neiges was my eighth selection for the Fourth Canadian Book Challenge.