It's no secret that I'm a huge blues fan. An argument could be made that the blues, as a genre, is at the core of all modern Western popular music, from jazz, rock 'n' roll, and country, right up to dubstep and digital hardcore. But that's not why I love it. There are so many things about it that appeal to me it's hard to know where to start. It's a music that has remained vital, emotionally and spiritually, for more than a century, maintaining both a strong connection to its roots and originating forms, and at the same time embracing new styles and techniques. Charlie Patton, who died in 1934 somewhere in his forties (nobody knows for sure how old he was), could rise from the dead and would be able to hear catl or The Black Keys and not only understand their music, but recognize it as his own.
The prevailing stereotype, which derives largely from '60s revivalist fans, is that it is a music of hardship and despair, sounding all too often like a cheap knockoff of Muddy Waters' spectacular "Mannish Boy" (a song full of raw sexual energy and the irony of a grown man gently mocking the näiveté of his younger, more cocksure self, and an answer song to Bo Diddley's "I'm a Man," itself written in response to Willie Dixon's "Hoochie Coochie Man"). These stereotypes certainly ring true in particular corners of the blues world, but only if one listens uncritically.
The blues is also a music of spiritual revelation, of race and class struggles, of love and sex and a whisky-throated howl from the back of a juke-joint on a hot Saturday night. It is also a music of honesty and reflection. Rock 'n' roll, the most famous of the blues' bastard-children (and really, originally just a name made up to trick white people into buying R&B records), is about ego. Rock 'n' roll cries out, look how great I am, and says I love you because you are beautiful, because you're perfect, and sometimes, I can't believe you would hurt me. The blues won't tell you these lies. The blues understands atonement. For every blues song saying you've done me wrong, there is one that says I know that I've done wrong. It asks for forgiveness, knowing it doesn't deserve any. The blues says you aren't that pretty, but neither am I; you can be spiteful and I can be cruel, but I love you anyway, and I'm asking you to love me too. The blues knows you aren't perfect, and it doesn't give a shit, as long as you tell the truth, even when it's hard. Maybe especially when it's hard. The blues is honest, and it's raw.
If you know the blues mostly from artists like B.B. King and Buddy Guy, then I'm about to blow your mind. They are great performers, well-liked and respected for good reason. But they are slick and polished in a way that I think doesn't reflect the core of the genre, or the power it can really have. Last year a friend of mine asked me to put together a small sampler of blues songs, to give her a sense of the genre. I wound up making a five-disc, one hundred song collection, mostly of country blues (but also some proto-blues, blues-punk, and even rock 'n' roll), that I think is a good introduction to what the blues can really be. That shows its raw side, its love of strong drink and causing trouble and licking sweat from its partner's neck. I called it Drinking, Fighting, and Fucking: Lessons in the Real Folk Blues. I can't distribute it here, because that would be illegal, but I'm going to give you the playlist, so you can assemble it yourself.
This is important music, and I hope you'll seek it out.
Disc One
Rosie – C.B. And Axe Gang
Hard Time Killin' Floor Blues – Skip James
Ain't Gonna Study War No More – Lead Belly
Evil Blues – Mance Lipscomb
Down The Dirt Road Blues – Charlie Patton
Dry Land Blues – Furry Lewis & Frank Stokes
Stop Breakin' Down Blues – Robert Johnson
Shake 'Em On Down – Bukka White
Three Women Blues – Blind Willie McTell
Catfish Blues – Jack Owens & Bud Spires
I Got Mine – Furry Lewis & Frank Stokes
The Panama Limited – Bukka White
When I Lay My Burden Down – Mississippi Fred McDowell
C & A Blues – Big Bill Broonzy
It Hurts Me Too – Tampa Red
Drop Down Mama – Sleepy John Estes
I'm A Steady Rollin' Man – Robert Johnson
When Can I Change My Clothes? – Bukka White
Motherless Children – Felix Dukes, Mississippi Fred McDowell
Furry's Blues – Furry Lewis & Frank Stokes
Cross Cut Saw Blues – Tony Hollins
Working Man Blues – Sleepy John Estes
You Can't Get Stuff No More – Blind Willie McTell
I Am In The Heavenly Way – Bukka White
Me And The Devil Blues – Robert Johson
Midnight Special – Lead Belly
Disc Two
Jesus on the Mainline – Jame Shorty, Viola James & church congregation
Baby, Please Don't Go – Mississippi Fred McDowell
A to Z Blues – Blind Willie McTell
The Atlanta Special – Bukka White
Sweet Blood Call – Louisiana Red
Suffer – Jimmy McCracklin
Catfish Blues – R.L. Burnside
I Love You (Solo) – Asie Payton
Motherless Children Have A Hard Time – Blind Willie McTell
Goin' Down to the River – Mississippi Fred McDowell, Fanny Davis & Miles Pratcher
Down in the Alley – Big Bill Broonzy
Sissy Man – Josh White (As Pinewood Tom)
Shake 'Em On Down – Mississippi Fred McDowell
Boogie Chillen – John Lee Hooker
Hoochie Coochie Man – Muddy Waters
Mama Talk To Your Daughter – J.B. Lenoir
Messin' With the Kid – Earl Hooker & Junior Wells
Big Boss Man – Jimmy Reed
Killing Floor – Howlin' Wolf
Dust My Broom – Elmore James
Bring It To Jerome – Bo Diddley
Prison Bars All Around Me – Earl Hooker & Junior Wells
Mannish Boy – Muddy Waters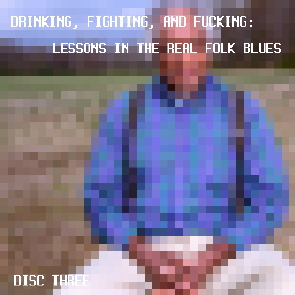 Disc Three
Nobody's Fault But Mine – Mance Lipscomb
Black Mattie – Robert Belfour
Standing in My Doorway Crying – Jessie Mae Hemphill
Peaches – R.L. Burnside
It Must Have Been the Devil – Jack Owens and Bud Spires
You Got to Move – Mississippi Fred McDowell
Please Tell Me You Love Me – Asie Payton
If You Like Fat Women – CeDell Davis
You Better Run – Junior Kimbrough & The Soul Blues Boys
I Found Out – Nathaniel Mayer
Jumper Hangin' on the Line – R.L. Burnside
She Asked Me So I Told Her – T-Model Ford
Done Got Old – Heartless Bastards
Teardrop – Magic Slim
I Got My Eyes On You – Robert Belfour
Have Mercy on Me – The Black Keys
Burning Hell – Canned Heat & John Lee Hooker
Disc Four
Back to the Bridge – Asie Payton
Keep Your Hands Off Her – Junior Kimbrough
Bad Luck City – R.L. Burnside
When The Lights Go Out – The Black Keys
Breaking My Heart – Robert Belfour
Feel Good Babe – Frank Frost
Pucker Up Buttercup – Paul Jones
Sail On – T-Model Ford
Boogie Chillen No. 2 – Canned Heat & John Lee Hooker
Modern Times – The Black Keys
Ride Like Hell – Big Sugar
Grind It Down – catl
Chicken Dog – The Jon Spencer Blues Explosion
Devil is on His Way – Joe Buck Yourself
The Criminal Inside Me – R.L. Burnside
Workin' Man's Soul – catl
Disc Five
Travelling Riverside Blues – Led Zeppelin
Memo From Turner – The Rolling Stones
Shake It Baby – John Lee Hooker
Boom Boom – The Animals
Groundhog Day – Big Sugar
Ole Man Trouble – The Jon Spencer Blues Explosion
Happy Wanderer – Chad Parks and The Near Death Experience
I Got Mine – The Black Keys
Skull Ring – Big Sugar
The Girl I Love She Got Long Black Wavy Hair – Led Zeppelin
Oh Death – catl
Blues X Man – The Jon Spencer Blues Explosion
Over the Hill – R.L. Burnside
Norene – Robert Belfour
Why Don't You Give It To Me – Nathaniel Mayer
Empty Head – Big Sugar
My Mind Is Ramblin' – The Black Keys
Hard Time Killing Floor Blues – Chris Thomas King