Ahoy! Welcome to the Weekly Churn, a regular series of posts about what I've been reading, watching, and thinking about over the previous week. This is sort of my response to the whole newsletter phenomenon, but mostly it's about getting me back into a headspace where writing is a habit rather than an event. So here goes.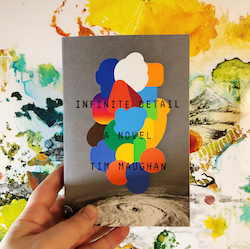 The big news for this week is that Tim Maughan's book Infinite Detail finally dropped. I've been a fan of Tim's work for quite some time—somebody recommended Paintwork, his self-published collection of short fiction, and I was hooked right from page one. It took Infinite Detail almost a year longer to come out than expected, but it's well worth the wait. I've been re-reading Bragi Ólafsson's work as prep for my review of Narrator, his latest book to be translated into English, but I was so excited about Tim's novel that I set that project aside. I finished reading Infinite Detail on Thursday, and wrote about it more or less immediately. I recommend you check it out. While you do that, I've moved on to my second reading of The Ambassador.
In the last few years the quantity of television I consume has gone down dramatically. I'm a huge fan of the medium and for a long time I consumed every interesting show I came across, and even a few trash ones.1 Most of what I watch these days is Forged in Fire, You're the Worst, and Letterkenny, along with whatever inoffensive one-offs we can find to watch on Netflix during dinner. For some reason I've found a few extra hours over the last week or so and I've finally been able to make a start on some series I've been neglecting. First up is Star Trek: Discovery. I've been watching Star Trek in some form or another for most of my life, and I've missed its reliability; it seldom got as bad as the more convoluted low-budget dramas on television, and when it was good it was very good indeed. We are about two-thirds into the first season and Discovery has yet to hit its stride. It's beautiful to look at, but with a few exceptions the acting is mediocre and the writing is sloppy, very much in keeping with the films set in the Kelvin timeline. One of my chief complaints is that the show relies so much on pacing and shock moments to keep the show moving that there's no space for the actors to do the kind of deep character work that the best episodes of The Next Generation and Deep Space Nine relied on. There's a subplot in Discovery about a crew member dealing with PTSD from torture, and while the show show seems to relish showing us lurid images of cutting and sexual abuse (complete with prosthetic Klingon nipples), the effect is akin to a poorly-made '90s music video and not nearly as disturbing as, say, the Next Generation "Chain of Command" arc or Deep Space Nine's "Second Skin."2 I've heard it improves, and the season isn't very long by North American television standards, so I'm going to stick it out for a while yet.
The other television series I've finally gotten around to is Black Mirror, which has turned out to be very much my thing despite how frequently it makes me cringe.3 It's got an emotional intensity that can be hard to find in anthology shows, given that they have little time to develop characters compared to regular television shows, and smaller budgets than feature films, but the series' casting directors (Jina Jay, Shaheen Baig, and Henry Russell Bergstein) have done an absolutely stellar job finding exactly the right blend of character actors. Even John Hamm manages to disappear into his role. My favourite episodes thus far are nearly all from season three; "San Junipero" was a lovely shift in tone and "Hated in the Nation" does that solving-crimes-through-bureaucracy thing that UK cop shows do so well. The callbacks to Irma Thomas' "Anyone Who Knows What Love Is (Will Understand)" are always a delight. Even Charlie Brooker can't keep everything fresh, however, and some episodes descend into typical science fiction tropiness. I'm pretty sure both X-Files and Stargate SG-1 did versions of "Playtest" back in the late '90s, and the plot of "Shut Up and Dance" has been an urban myth for as long as I've been on the Internet. Even elements of "USS Callister" and "Men Against Fire" have a bit of an SG-1 feel to them. Still: until the next season of Russian Doll drops I'll take a bad episode of Black Mirror over yet another CW superhero show, or an Andromeda remake, or God forbid something from Joss Whedon.
I've also recently discovered the world of movie prop auctions, no doubt much to my partner's dismay, and I won some small items from Community, my favourite television show of all time. They arrived on Thursday, in a box significantly larger than the items required and filled with more packing peanuts than I'd ever seen in one place. The cat was overjoyed, and then profoundly disappointed when I wouldn't let her at the box for a frolic.4
Yesterday was the final session on my third tattoo. More than ten hours in a chair getting stabbed by needles across two months, but it's worth it. Folks who know me will also know that fish are an important personal symbol to me, and my artist, Mackenzie over at Chronic Ink, did an amazing job bringing my idea to life. It will be another three weeks before the work from this second session heals, not counting any touch-ups, meaning it will wind up being a six week process all in. Not for the faint of heart, I suppose, but I'm very pleased. Both sessions with Mackenzie were mellow and relaxing, which is a great atmosphere to find in a tattoo shop.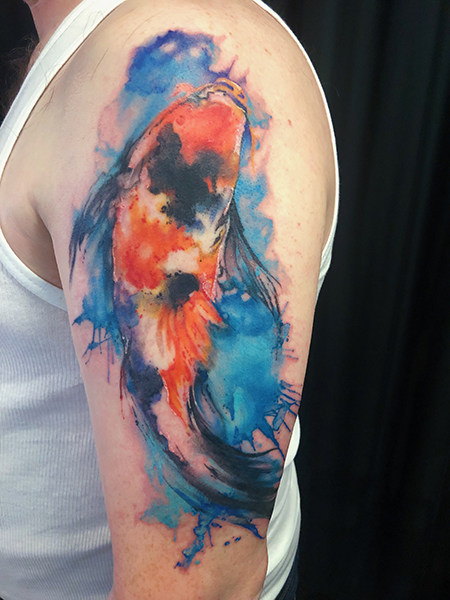 That's it for this week. Thanks for reading!