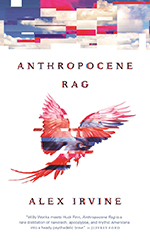 It's not often that I turn to Tor for challenging books. While their backlist includes truly amazing works like Maureen F. McHugh's China Mountain Zhang, much of what they have on offer more recently, while entertaining and often progressive(ish), has made such a virtue of open, accessible writing that when I pick up one of their books I do so knowing that it will do less to challenge me structurally or linguistically than books I was reading as a teenager. Meatier than YA, but nothing that would alienate a reader who'd never yet gone beyond YA.1 Not bad books, by any stretch—I'm very rarely disappointed by a Tor title—but I know where to set my expectations. Tor's editorial team does not appear to agree with Harold Blooms' assertion that reading is the search for a difficult pleasure. Suffice it to say I was quite pleasantly surprised when Alex Irvine's Anthropocene Rag actually wanted me to do some work as a reader.
Irvine's prose is, for the most part, pretty straightforward. It's got some science-fiction-y jargon and future slang, but it's all easy to grasp from context, and like a lot of late genre writing, draws from an assumed common pool of understanding, not of science, but of science fiction terms and concepts. Structurally and thematically, however, there's a lot of interesting, complex stuff going on.
The basic plot is The Wonderful Wizard of Oz and the beginning of Roald Dahl's Charlie and the Chocolate Factory as filtered through the American road novel (it most reminded me, believe it or not, of the 1998 cult film Six-String Samurai). Six people are given golden tickets by a nano-bot construct called Prospector Ed, and they journey across what's left of the United States to the semi-mythical Monument City to learn what awaits them, connecting with each other along the way. Pretty straightforward, on the face of it, but the landscape the six need to cross is a surrealistic nightmare of tangled myths, stories, and technological peril.
This where we get to what's genuinely challenging about Anthropocene Rag. The novel is not-quite post-apocalyptic. There has been an event, sometimes called the Boom and sometimes called the Synception, when autonomous nanotechnology was released into the world at scale, redrawing the rules of reality overnight. The nano-bots are a power unto themselves, obsessed with story and myth as a way to deal with their becoming, or emergence, as Irvine puts it. They murder, create, destroy, recycle, reconstitute, rebuild, and annihilate constantly and without regard for consequence—because for "them," or perhaps "it," there are no consequences (the nano-constructs seem to be both part of a single AI and have the potential to operate and understand themselves independently). The Boom creates very real simulations of the stories that make up America's mythic self-conception, and the human characters are forced to interpret and survive the jumbled, remixed, recursive variations of these stories on a more or less daily basis, and the further they get from their homes, and their home myths, the more difficult that becomes. Mark Twain, Paul Bunyan, Sacagawea, Henry Ford, and Sal Paradise all make appearances in odd contexts with unstable meanings. The characters who have a good understanding of these stories fare better than the others, but not by a whole lot.
What this means, in practical terms, is that for the people in the novel the apocalypse is, and may forever remain, ongoing. Thematically, the novel ties this ongoing apocalypse to capitalism, colonialism, and the way stories and myths collectively function in American society. Colonialism and capitalism are both systems that create enormous, ongoing crises of apocalyptic proportions for large segments of American society, with both the new language of "disruption" and the very old fact of it constantly shifting the rules the vulnerable are required to implicitly understand in order to remain safe, or to have at least the illusion of safety. An entire network of myths and stories has built up in America—like everywhere else, but also unlike anywhere else—to acknowledge, explain, justify, or enforce these systems. These stories are told and retold, warp and change, erase old versions with new ones, or seed elements of truth into them until anything that might be called "real" is utterly lost, and all that's left is the crisis, the ongoing apocalypse, and the lie these systems have convinced us to tell ourselves, that guilty sense that somehow we are the problem, and that it's not a crisis, a disaster, a genocide or similar horror, but an opportunity, a path to hope and greatness. This is the power, for better or worse, that stories have, and Irvine makes that power painfully literal. But he also offers, if not redemption, at least a way to something different, through understanding this function of myth and story: the ability to ask, collectively, "what happens next?"
I was going to start this paragraph by saying that the character work in Anthropocene Rag is not great, but that's not really true, or at least is only partly true. Irvine starts out with interesting, believable characters with different, often complex motivations, solid backstories, all the stuff you need. He just… mostly doesn't go anywhere with it. Fara Jack is the only character who truly undergoes any growth, and she was on the cusp of that growth literally as she's introduced to the reader. All of them start out being interesting enough to carry the novel, but eventually they just become interchangeable consumers of the shifting myth-space that America has become, their individuality drowned out by the meta-narrative. It's thematically on point, but narratively frustrating. I'd have preferred the novel feature fewer characters than give such short shrift to so many.
Anthropocene Rag is more accessible than I've probably made it out to be here, but it's a book that resists easy answers, and despite being filled to bursting with staple science fiction tropes, being genre-savvy will not necessarily help the reader any more than it does the characters. This is not The Diamond Age; it's much closer to Ryan Boudinot's Blueprints of the Afterlife, but, really, not quite like anything else at all.